Treat your guests to an unforgettable experience of pure magic by award winning Wedding Magician & British Magical Champion Matthew McGurk   
WEDDING MAGICIAN SHOWREEL
make your wedding day truly unforgettable
A WEDDING MAGICIAN TO MAKE YOUR DAY UNFORGETTABLE
What better way to celebrate the happiest day of your life than with a once-in-a-lifetime performance from one of the top Wedding Magicians in London and the UK? Matthew has vast experience in providing outstanding wedding magic and tailoring his act to ensure it sets the tone for an evening of magic, charm, romance and celebration.
WHY HIRE A WEDDING MAGICIAN?
Large weddings often involve the bride and groom's friends and families meeting for the first time – and wedding magicians are a fantastic way to break the ice and get them talking! If your guests haven't met before, they'll be united in awe at Matthew's Close up Magic performed right at their table, and they're guaranteed to have something to chat about all night long – "How did he do that?!"
You're also going to get some amazing wedding photographs of people with hilarious expressions of surprise and delight on their faces! A Wedding magician will make your photographers job so easy and get you some great shots for the Wedding album!
Brilliant magician, very entertaining and clever – we employed Matthew at our wedding reception in October, and he went down a storm. Nobody could work out how he worked his magic – would definitely recommend – an absolute must for a function – keeps everyone transfixed and entertained.
We booked Matthew McGurk to do close up magic at our Wedding Breakfast and he was absolutely fantastic. Everyone was amazed! Matthew was professional, personable, clever and funny. Highly entertaining.
Matthew was a brilliant entertainer and I would recommend him for any special occasion. Several of our guests tried to catch him out but he was invincible throughout. He has an easy approach and was extremely popular among our wedding guests. I will be looking for an occasion where I can use him again.
SEE OUR FIVE STAR REVIEWS ON TRUSTPILOT
THE BEST TIMES TO USE A WEDDING MAGICIAN
If your wedding is an all-day affair, it's likely your guests will have some waiting around to do at key points in the day. These are the best times to use a wedding magician, to keep your guests entertained and have those little transitional moments fly by!
AFTER THE WEDDING CEREMONY
After the wedding will be the wedding reception, and this is a perfect opportunity for the Wedding Magician to meet and greet your guests as they arrive at the reception, amazing them with unbelievable magic until they are ready to go through to the wedding breakfast.
in-between courses at the wedding breakfasT
Having a Close up Magician perform during the courses at the wedding breakfast helps to break the ice on the table, where your guests may first meet and be sat with each other for a long time. It gets everyone enjoying themselves right from the start of the dinner. It also provided your guests with non-stop entertainment as they wait for the next delicious course to arrive.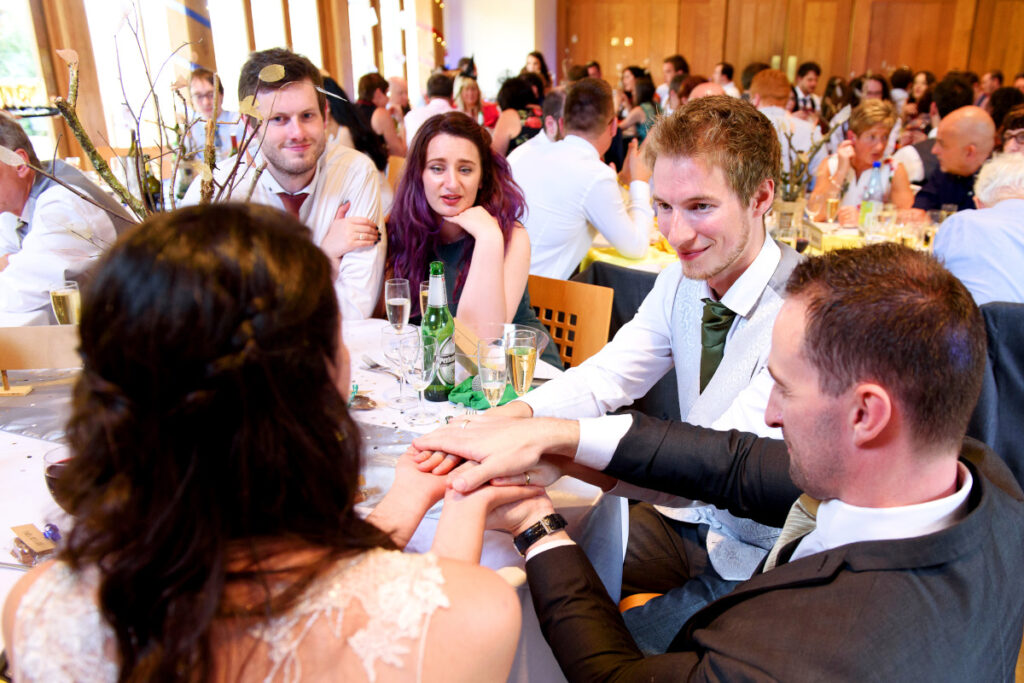 Special performance for the bride & groom
Included in all Wedding Magician Packages is a command performance for the two most important people of the day, the bride and groom. Matthew will perform a special and exclusive act where your guests can gather around and see an unbelievable performance of award-winning-magic. You will also be presented with a special gift that will provide you with a life-long memory of just how magical your wedding day was.
Frequently Asked Questions
Use the form below to check availability and get a quote for your date. One of our team will get back to you asap