Award winning corporate magician in London Matthew McGurk can add the WOW FACTOR to your next event 
CORPORATE MAGICIAN LONDON
Matthew McGurk is a multi-award winning magician, with over 10 awards for excellence in magic to his name, including the title of British Magical Champion.
He is a member of the Magic Circle. This should provide peace of mind that you are booking a professional that is certain to leave your guests amazed and raving about the entertainment you've booked.
Matthew has previously worked with clients from all over the world. He has a long list of five-star testimonials from clients including; Martin-Baker, BMW, Mercedes, HSBC, Metaflow Technologies, Elekta and Charpak UK, among many others.
If you're looking for the best corporate magician London, either for outstanding entertainment or to help maximise sales or brand exposure, then get in touch.
LONDON CORPORATE MAGICIAN SERVICES
Matthew can offer outstanding entertainment, no matter the size of your event. Big or small, Matthew will guarantee that your entertainment is the one thing everyone is talking about, long after the event is over!
"ABSOLUTELY UNBELIEVABLE"
"FIRST CLASS FROM START TO FINISH"
"A REMARKABLE ILLUSIONIST"
Double Your Leads at Your Next Exhibition. Using his natural showmanship and charm, Matthew can generate a massive crowd around your stand.
His magic will engage your potential investors and clients, delivering your information in a way that is guaranteed to grab their attention. They will also be enjoying themselves; and when people are enjoying themselves, they will be much more receptive to what you have to offer.
You'll be able to maximise your exposure this way and double if not triple your leads!
Matthew will customise his magic and presentation to deliver exactly what you want your potential clients to hear.
Delivered in such an entertaining and engaging way, it will certainly maximise your ROI. 
CORPORATE MAGICIAN REVIEWS
We CANNOT thank you enough for your time on Friday evening, you made the evening spectacular and I have only heard positive feedback from guests who were able to see your performance, you had my jaw on the ground with everything you did, it was incredible! If we ever require a magician again, you will certainly be top of our list.'
Adam Reynolds
CEO, Northamber Plc
Matthew, it is me who should be thanking you as our guests were absolutely amazed at your performance. My husband reckoned you were the best he had seen, so no problems about putting a review on your website. You really helped to make the night and I will definitely consider you for next year.
Marlene Outrim
Founder, UNIQ Family Wealth
This is the second time we've had Matt do his close up magic at a party of about 75 people. The magic is incredible – coin tricks, card tricks, bending forks…all in front of your eyes. Simply amazing. In addition, Matt is engaging and really works the party getting everyone involved in small groups so they experience it up close. Matt is a true professional and an incredible magician. Can't recommend him enough!
SEE OUR FIVE STAR REVIEWS ON TRUSTPILOT
LONDON CORPORATE MAGICIAN PRICES
Matthew does not include prices on the website because there are so many different services available for corporate events. You will only pay for the service you need, therefore the best way to get an idea of cost is to get in touch with the following information:
• Service Required
• Venue Location
• Time Required
• Date/Dates Required
He will then be able to give you an accurate quote for your enquiry within minutes. Call Matthew on 07760 228602 to discuss your booking now.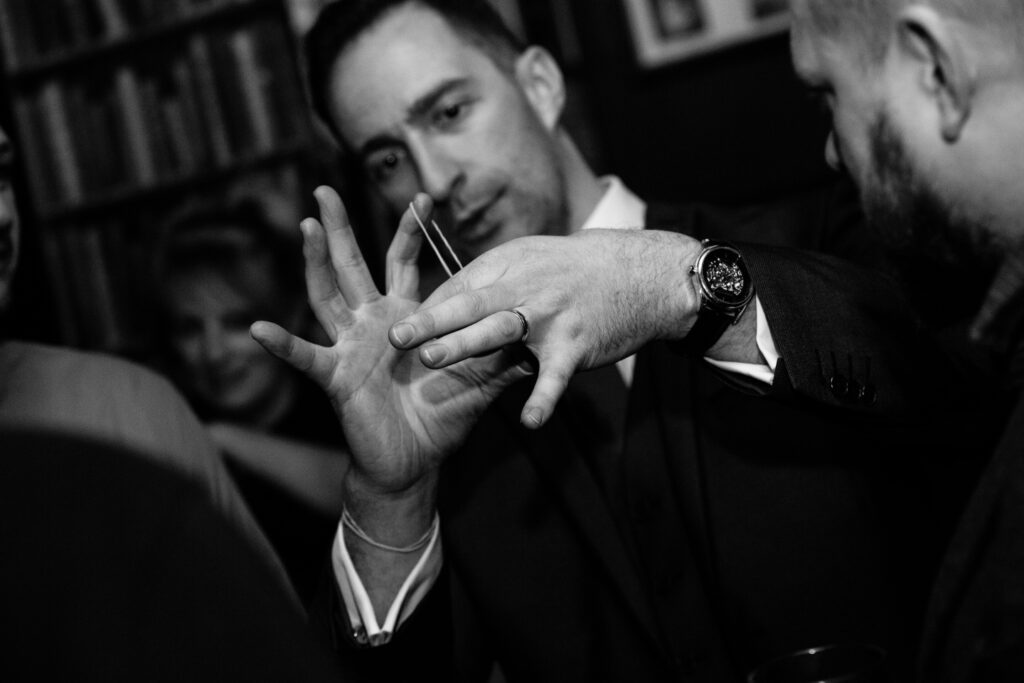 THE ULTIMATE WOW FACTOR EXPERIENCE
AN INCREDIBLE 20 MINUTE SHOW THAT WILL LEAVE YOUR GUESTS SPEECHLESS
An unbelievable Cabaret Show featuring award winning magic, mind reading and some of the most breath-taking illusions you could ever see. Perfect for audiences up to 1000 people and able to fit on the most compact stages.
Ready to add the wow factor to your event?
Use the form below to check availability for your date. Get in touch today  and we will get back to you asap