Presenting Matthew McGurk, an award winning Close up magician in Leicester to add the 'WOW Factor' to your wedding, corporate event or private party
Matthew McGurk is a British Champion Magician in Leicester who specialises in providing out-standing magical entertainment that will leave your guests completely spellbound. With a stack of over 10 national awards for excellence, credentials and celebrity testimonials to his name, you can rest assured that you are hiring the best magician in Leicester for your event.
Walk around magic to mix and mingle with your guests
Wedding Magic to add a magical touch to your special day
After Dinner shows featuring world class illusions
Add the wow factor to your wedding, corporate event or private party
"ABSOLUTELY UNBELIEVABLE"
"FIRST CLASS FROM START TO FINISH"
"A REMARKABLE ILLUSIONIST"
CLOSE UP MAGICIAN LEICESTER
If you're looking for a great way to great your guests at a private party or event, then a Close up Magician is a perfect choice.
A Close up Magician will meet and greet your guests as they arrive at then venue and perform amazing tricks that will have them laughing and enjoying themselves from the second they arrive.
A close up Magician performs magic up close, like the kind of magic you may have seen performed by Dynamo on television.
Your guests will be amazed as coins bend in their hands, their wrist watches vanish from their wrists and their rings disappear to re-appear attached to Matthew's car keys!
It's a fun way to break the ice, it helps them to relax, and its gets everyone in the spirit to have a great night.
WEDDING MAGICIAN LEICESTER
Having a Close up Magician at a Wedding is guaranteed to make your Wedding truly magical. It's a great hassle free choice for entertainment and can be a fantastic way to keep your guests entertained at key moments throughout the day.
Matthew can meet and greet your guests as they arrive at the reception, helping to break the ice with guests who have never met before.
Keep your guests entertained when they may be waiting around during the photographs
Perform incredible table magic in between courses at the Wedding Breakfast.
To find our more visit the Wedding Magician Page.
We CANNOT thank you enough for your time on Friday evening, you made the evening spectacular and I have only heard positive feedback from guests who were able to see your performance, you had my jaw on the ground with everything you did, it was incredible! If we ever require a magician again, you will certainly be top of our list.'
Adam Reynolds
CEO, Northamber Plc
Matt was absolutely fantastic. He did a selection of close-up magic at a small gathering for a friend's birthday party. His tricks were incredible—we were talking about them long after he had gone home! He was very friendly, funny, and engaging, and an absolute pleasure to deal with as we organised the particulars and logistics before the event. I would hire him again in an instant. If you're in need of a bit of magic (and let's face it—who isn't?), then I would certainly recommend booking Matt!
Chris Sanders
Private Party
This is the second time we've had Matt do his close up magic at a party of about 75 people. The magic is incredible – coin tricks, card tricks, bending forks…all in front of your eyes. Simply amazing. In addition, Matt is engaging and really works the party getting everyone involved in small groups so they experience it up close. Matt is a true professional and an incredible magician. Can't recommend him enough!
SEE OUR FIVE STAR REVIEWS ON TRUSTPILOT
If your having an event where your guests will be sat around tables such as a Dinner, then Matthew is able to go from table to table between each course and perform a short 5 – 10-minute act of incredible magic for each table.
Your guests will not believe their eyes as £10 notes turn into £50 notes, wine glasses bend with the power of his mind and even goldfish appear from thin air!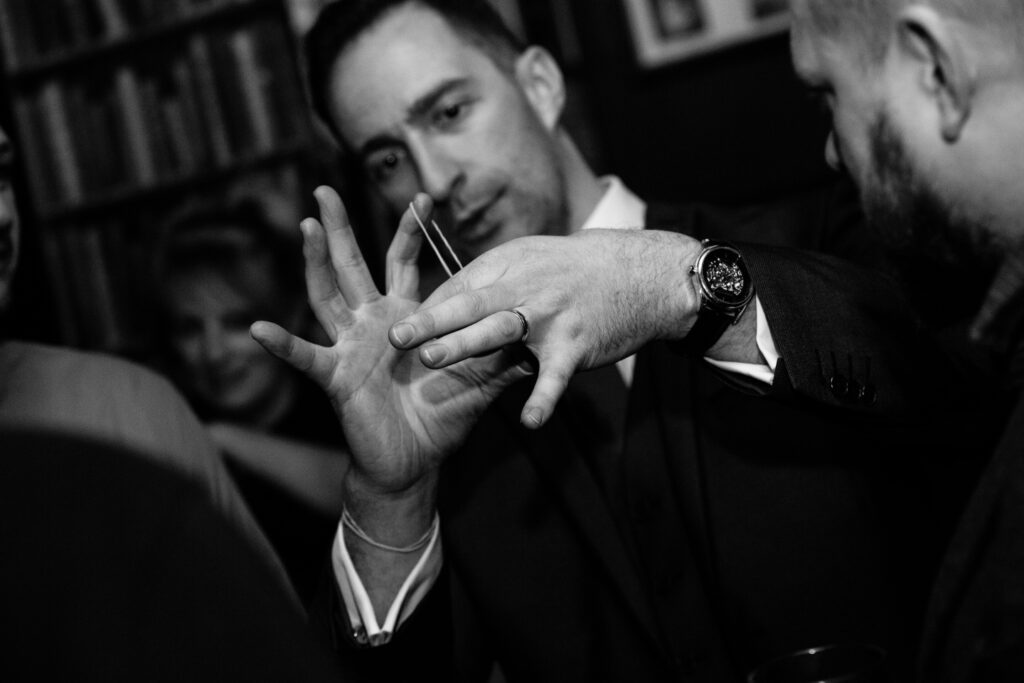 THE ULTIMATE WOW FACTOR EXPERIENCE
AN INCREDIBLE 20 MINUTE SHOW THAT WILL LEAVE YOUR GUESTS SPEECHLESS
An unbelievable Cabaret Show featuring award winning magic, mind reading and some of the most breath-taking illusions you could ever see. An incredible 20 minute show, perfect to round off the evening. Perfect for audiences up to 1000 people and able to fit on the most compact stages. 
Ready to add the wow factor to your event?
Use the form below to check availability for your date. Get in touch today and we will get back to you asap