Presenting Matthew McGurk, an award winning Close up magician in Essex to add the 'WOW Factor' to your wedding, corporate event or private party
If your looking for an outstanding Essex Magician for a wedding, corporate event or private party then your search is over.
Matthew McGurk is a British Magical Champion and Magic Circle Magician who is able to provide first class magic for both large and small events in in Essex.
Matthews magic is guaranteed to leave your guests absolutely spellbound and raving about the magic long after its over.
With a stack of over 10 national awards for excellence, multiple national television appearances, celebrity testimonials and rave reviews from previous clients to his name, you can rest assured that you are hiring the best Magician in Essex for your event. 
"ABSOLUTELY UNBELIEVABLE"
"FIRST CLASS FROM START TO FINISH"
"A REMARKABLE ILLUSIONIST"
If you're looking for a fantastic way to provide fun and interactive entertainment, then there can be no better choice than a close up magician. Matthew is currently one of the UK's top close up magicians and has won many awards for his incredible sleight of hand.
What better way to welcome your guests to your event than having Matthew meet and greet them with some incredible Close up magic? 
Close up Magic is so incredible because its magic performed under the very noses of your guests, and they still can't see how its done. It's the kind of magic that you may have seen performed on television by the likes of Dynamo
Outstanding magic that is guaranteed to have your guests screaming and laughing with delight.
Looking for a Magician to amaze your guests at your Wedding? Having a Close up Magician at a Wedding is guaranteed to make your Wedding truly magical.
Close up Magic is now very popular at weddings in the Essex. It's easy to plan and can be a fantastic way to keep your guests entertained at key moments throughout the day where they may be waiting around.
Matthew can meet and greet your guests as they arrive at the reception, helping to break the ice with guests who have never met before.
Keep your guests entertained during the photographs of the Bridge and Groom.
Perform incredible table magic in between courses at the Wedding Breakfast to keep the conversation flowing. Your guests will have plenty to talk about!
To find out more, visit the wedding magician page.
Brilliant magician, very entertaining and clever – we employed Matthew at our wedding reception in October, and he went down a storm. Nobody could work out how he worked his magic – would definitely recommend – an absolute must for a function – keeps everyone transfixed and entertained.
Matthew was a brilliant entertainer and I would recommend him for any special occasion. Several of our guests tried to catch him out but he was invincible throughout. He has an easy approach and was extremely popular among our wedding guests. I will be looking for an occasion where I can use him again.
We booked Matthew McGurk to do close up magic at our Wedding Breakfast and he was absolutely fantastic. Everyone was amazed! Matthew was professional, personable, clever and funny. Highly entertaining.
SEE OUR FIVE STAR REVIEWS ON TRUSTPILOT
If you're planning a Wedding, corporate event, private party or any event where your guests will be seated, then Matthew is able to perform magic around the tables, in-between the courses of the dinner.
Each table will get there own 5 to 10-minute show of world class sleight of hand magic.
Your guests will not believe their eyes as £20 notes change into £50 notes, wine glasses bend and melt in front of their eyes and goldfish appear from nowhere in a flash of fire!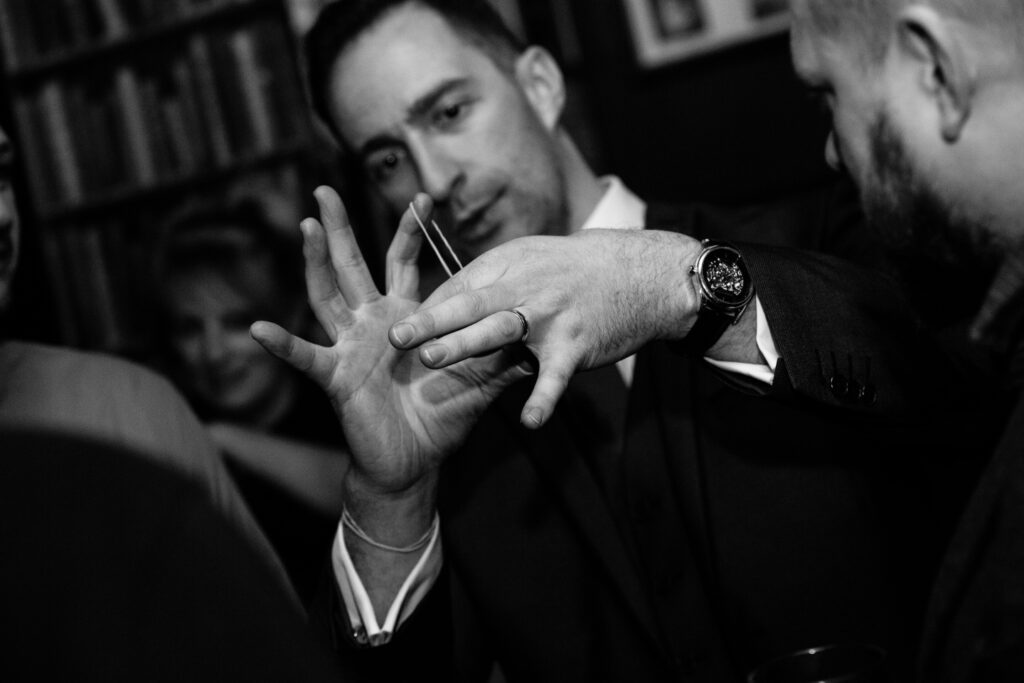 THE ULTIMATE WOW FACTOR EXPERIENCE
AN INCREDIBLE 20 MINUTE SHOW THAT WILL LEAVE YOUR GUESTS SPEECHLESS
An unbelievable Cabaret Show featuring award winning magic, mind reading and some of the most breath-taking illusions you could ever see. An incredible 20 minute show, perfect to round off the evening. Perfect for audiences up to 1000 people and able to fit on the most compact stages. 
Ready to add the wow factor to your event?
Use the form below to check availability for your date. Get in touch today and we will get back to you asap