Looking for the best Close up magician or illusionist for your event? Find out how British Magical Champion Matthew McGurk can bring the wow factor to your party!
CLOSE UP MAGICIAN & ILLUSIONIST
Introducing Matthew McGurk – a multi-award-winning London Magician and Illusionist, with a stack of accolades, awards and celebrity performances to his name. Matthew works as both an Illusionist and Close up magician not only in London but throughout the UK.  Whether you are looking for an Illusionist to perform at a huge corporate event, or a magician to perform Close up magic for a  small wedding or corporate party with 100 people, Matthew is able to provide a show that is sure to add the wow factor you're looking for. 
British Magical Champion –  If you looking to hire the best London Magician for your event, Matthew has won over 10 national awards for achievement in excellence as both a close up magician and Illusionist. His unique brand of sleight of hand magic, coupled with his individual charm and undeniable stage presence has made him one of the most sought-after close up magicians and magicians in London.
"FIRST CLASS FROM START TO FINISH"
"A REMARKABLE ILLUSIONIST"
 Looking for a magician to add the wow factor to your event? Then you're in the right place. Matthew offers a range full range of services, from intimate close up magic to after dinner performances and illusion shows. Whatever you event is, Matthew is guaranteed to be an excellent addition to your wedding, corporate event or private party. 
We CANNOT thank you enough for your time on Friday evening, you made the evening spectacular and I have only heard positive feedback from guests who were able to see your performance, you had my jaw on the ground with everything you did, it was incredible! If we ever require a magician again, you will certainly be top of our list.'
Adam Reynolds
CEO, Northamber Plc
Matt was absolutely fantastic. He did a selection of close-up magic at a small gathering for a friend's birthday party. His tricks were incredible—we were talking about them long after he had gone home! He was very friendly, funny, and engaging, and an absolute pleasure to deal with as we organised the particulars and logistics before the event. I would hire him again in an instant. If you're in need of a bit of magic (and let's face it—who isn't?), then I would certainly recommend booking Matt!
Chris Sanders
Private Party
This is the second time we've had Matt do his close up magic at a party of about 75 people. The magic is incredible – coin tricks, card tricks, bending forks…all in front of your eyes. Simply amazing. In addition, Matt is engaging and really works the party getting everyone involved in small groups so they experience it up close. Matt is a true professional and an incredible magician. Can't recommend him enough!
SEE OUR FIVE STAR REVIEWS ON TRUSTPILOT
Matt performs as a Close up Magician, mixing amongst your guests and performing incredible Close up magic that is sure to have them amazed. 
This kind of magic is the perfect start to the night entertainment and can be a fantastic way to meet and greet your guests, which can then continue on throughout the dinner. If you're looking for a Close up Magician to provide smaller table magic at your next reception, dinner or party, Matthew's award winning sleight of hand is just the trick.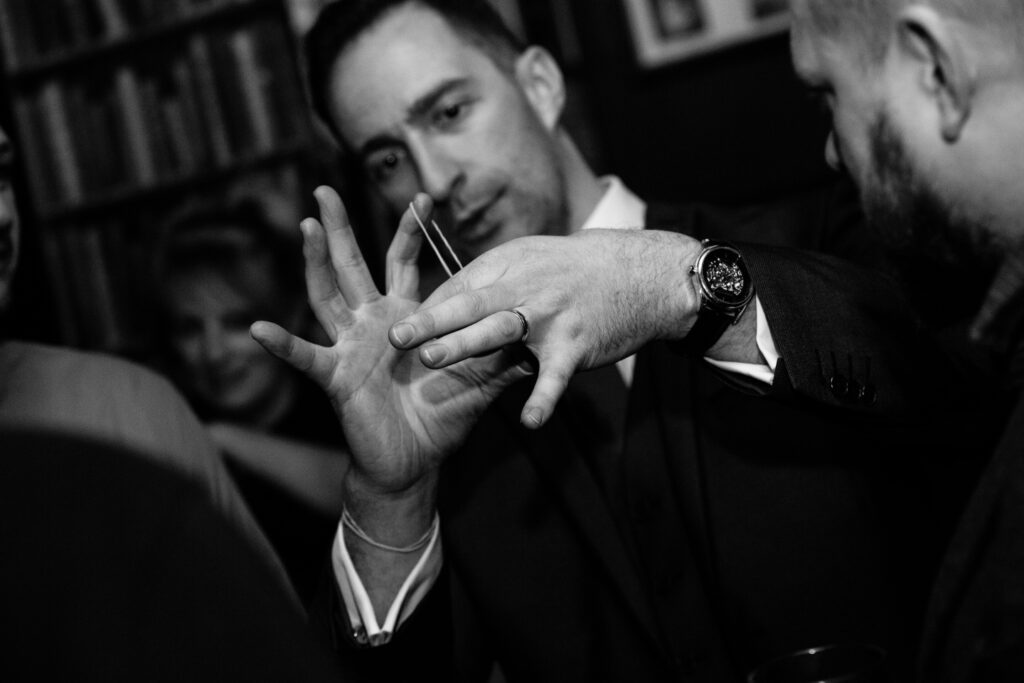 ILLUSIONIST & ILLUSION SHOWS
Matthew's goal as an Illusionist is to create illusion shows that will have the audience awestruck. Matthew offers incredible illusion shows that offer a fresh approach to magic with the use of aerial silk artists, fire breathing, angle grinding, stunning costumes and grand Illusions. It's a completely different style from other UK Illusion acts, offering a fresh and original approach. If you really want a show that's sure to make a big impact, then London Illusionist Matthew's  illusion shows are guaranteed to give your event the wow factor that you're looking for. 
Ready to add the wow factor to your event?
Use the form below to check availability for your date. Get in touch today  and we will get back to you asap